Backlinks 2021: What do they really bring?
0 Kommentar(e)
Diskussion
Learn in this article what importance backlinks really have for your site in 2021. We have evaluated the most important sources for you and summarized what is important.
One thing is clear: how backlinks affect your ranking has been hotly debated for years. Numerous case studies explain that it pays off if you do it right and, above all, how to do it right. But still many site operators are skeptical.
In this article, we've let well-known SEO experts have their say, visualized our own experiences, and cited the most renowned analysis tools to shed light once and for all.
Here we go!
The role of backlinks for SEO
"It's 20 years old. Links are here to stay"
Brian Dean is one of the most well-known SEO experts in the world. No SEO channel is clicked more often. Even Forbes Magazine praises the freelancer's work.
"[…] at Google HQ, they're in there saying – 'Links are an awesome signal'. If it wasn't, they wouldn't start parsing out – 'nofollow, sponsored, UGC…. "
Source: https://backlinko.com/Inan early 2020 interview with Barry Schwartz, Brian brings attention to the current and future relevance of backlinks. "We thought links would go through a decline in value. Now it seems like they're putting even more focus on her."
For Brian, the importance for backlinks to Google's algorithm is a crystal clear issue. Not only DoFollow links have a very high value in his opinion. NoFollow, sponsored links like advertorials and UCG links also affect page rankings.
If you want to brush up on your SEO knowledge, Brian Dean's YouTube channel is the place to go. In this video he shows you how to build free links
Study: what kind of backlinks does your business really need?
Neil Patel , much like Brian Dean, is one of the better known faces of the SEO scene. In addition to lectures and much-clicked videos, Neil Patel is the patron of the relaunch of a helpful tool for SEOs: Ubersuggest.
In our blog post "Ubersuggest – What's the new keyword finder good for?" we give you insights into this tool.Source: https://neilpatel.com/de/ His study examines the effect of different types of backlinks. The main focus is on the relevance of the topic and the ratings of the links. The bottom line is this:
"Backlinks from trusted and popular websites increase the authority of your website. They're also a super resource for your brand image and help you gain referral traffic."
Backlinks: Case studies
At this point, let's take a look at real examples from two of our customers. It is clear to see that link building results in a significant increase in traffic.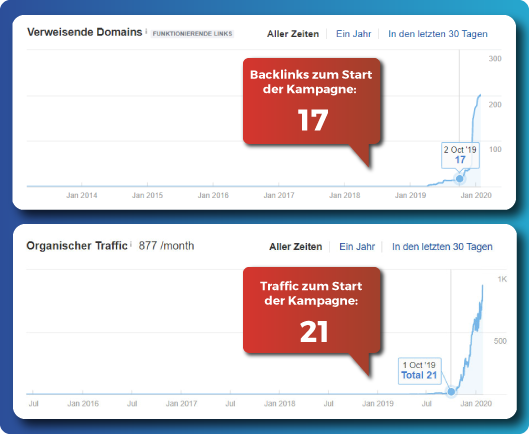 The results speak for themselves.
Doubling of traffic in a few months
The same phenomenon is seen with this customer. Building high quality backlinks on a regular basis leads to a huge increase in traffic in the months that follow.
The articles placed specifically boosted the desired keywords, ranking higher than the competition and creating valuable organic traffic.
The same phenomenon can be observed with this customer. A few months after the start of the link campaign, the site recorded an enormous increase in traffic.
Analysis tool: Quotes from various analysis tools
The following quotes are from articles about backlinks published by the major analytics tools. As the articles are very extensive, we have quoted the summaries of the articles here. We have of course provided the links to the respective contributions.
[…] But quality backlinks are the strongest signal, and so will always be a fundamental part of how the algorithm works. Attracting quality backlinks is essential, and always will be essential to ranking well in Google search results. – MOZ(source)
"Backlinks are important when it comes to ranking on search engines like Google. However, this does not mean that all backlinks are equal. Relevance, placement, and other attributes all contribute to the quality and usefulness of a link" Ahrefs(source)
"Backlinks are important for search engines and users alike. From a user's perspective, backlinks provide a way for people to find other sources of information on the same or related topics." – searchmetrics.com(source)
Synopsis:
Backlinks help you generate organic traffic for your site. There's no doubt about it. Both leading SEOs, our experience and the opinion of the most renowned analysis tools speak the same language.
Only strategic link building leads to success
Who wants to bring his site successfully with backlinks to the front must follow basic rules. Backlinks need to be relevant to the topic, placed at the right time intervals, and have high metrics appropriate to your site.
The way to the top of the search results
In our marketplace you will find everything you need to start a successful link campaign. Our link portfolio allows you a targeted link building with adequate ratings for your industry. In our WIKI articles we explain all the important terms and in our blog you will find instructions on how to proceed. If you have any questions, you can of course contact our Support support team via chat, mail and phone.We hope we could bring a little light into the darkness and provide a little clarity in the matter of link building! Our team wishes you every success on your way to the top!
Inhaltsverzeichnis
Your comment has been sent successfully.
Your comment will be checked