DuckDuckGo
0 Kommentar(e)
Diskussion
DuckDuckGo is a search engine that, unlike providers such as Google or Bing, neither collects user data nor stores IP addresses. It also filters pages from the search results that contain a lot of advertising.
Definition
Privacy is a top priority in DuckDuckGo's philosophy. The search engine claims, similar to Ixquick and Qwant, not to store IP addresses or search histories and not to track visitors.
"Privacy – made easy." That's the duckduckgo.com tagline.
After Google, Bing and Yahoo, DuckDuckGo is the fourth most used search engine in Germany.
The home page of duckduckgo is pretty clean and uncluttered, similar to Google.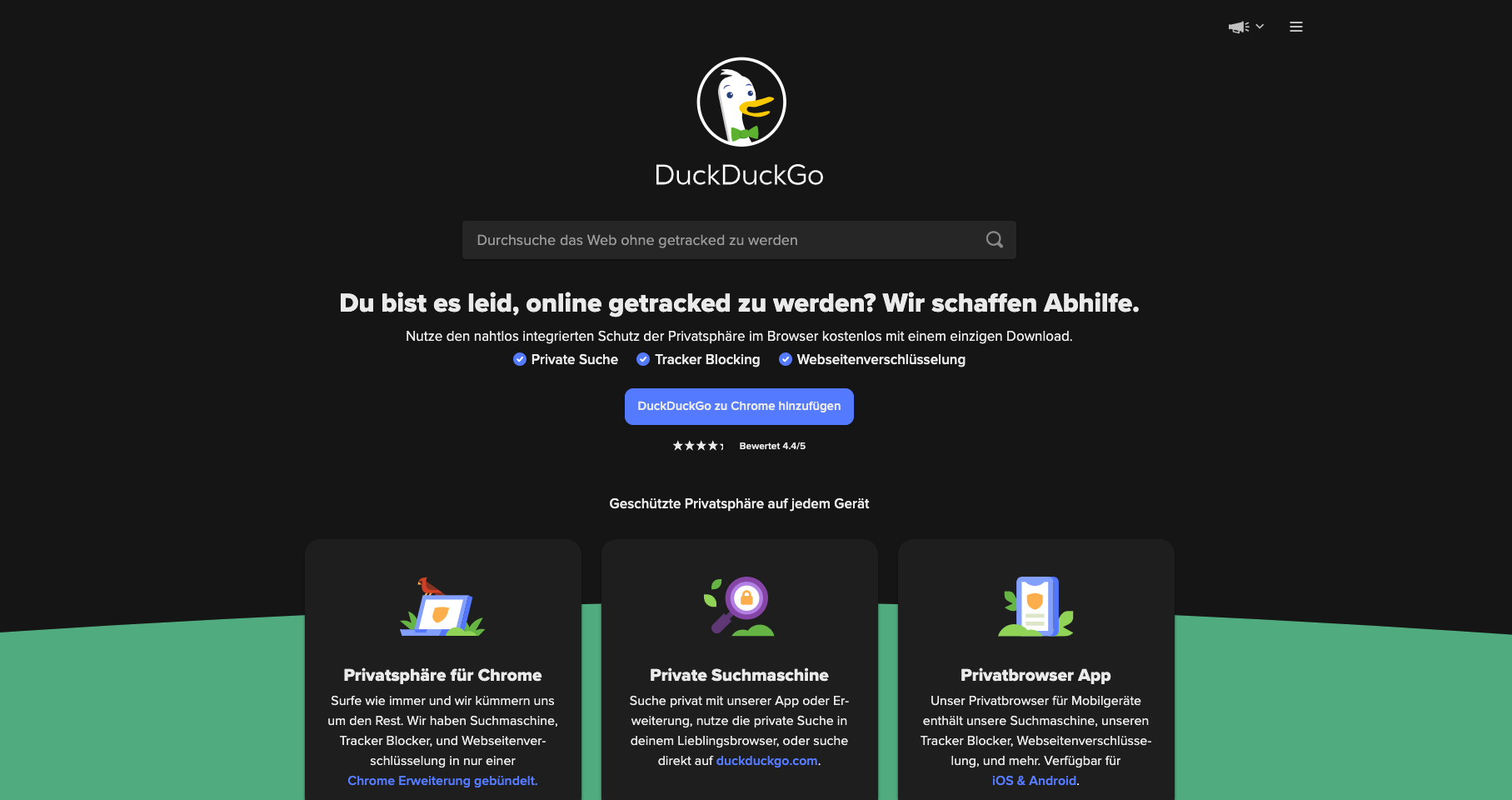 The history and development of DuckDuckGo
In September 2008, the US-American Gabriel Weinberg founded DuckDuckGo. He studied Physics and Technology Politics at MIT (Massachusetts Institute of Technology). After the foundation Weinberg operated the search engine alone for the time being. Since 2011, DuckDuckGo has funded various investors as well as keyword-based advertising that customers can manage through Bing Ads. Since then, the search engine has been constantly developed and improved, taking into account user requests. DuckDuckGo now records more than 45 million searches per day. The Wikileaks revelations by Edward Snowden in 2013 contributed enormously to the increased popularity of DuckDuckGo.
How DuckDuckGo works
DuckDuckGo gets its search results from different sources: on the one hand by its own crawler, the DuckDuckBot, on the other hand because DuckDuckGo acts as a so-called meta search engine by using results from other search engines like Yahoo and Bing. In addition, DuckDuckGo uses high-traffic websites like Wikipedia as sources.
Particular to DuckDuckGo are the so-called zero-click info boxes, which provide information snippets and related topics to the search term. DuckDuckGo is not only available as an add on for many browsers, but also as an app for mobile devices. Besides the normal search, an anonymous search via the Tor network is possible.
What does DuckDuckGo offer that Google doesn't?
You can customize DuckDuckGo's interface and features to suit your personal preferences. You also have a wide choice when it comes to filters: You can display search result pages restricted to a certain region or in a certain language. By the way, you can hide advertisements.
You can also search only on specific websites – with the help of the so-called !Bang syntax. There are thousands of these !Bang shortcuts available and you can even create your own – for sites you want to visit and browse again and again.
DuckDuckGo also offers the following pre-filtered search results:
Search the stock market: Shows stock indices
Search for the sound: Shows audio files
DuckDuckGo in SEO and Marketing
At the moment, there is no available data about the SEO for DuckDuckGo. However, if the search engine continues to grow in popularity, many SEOs will also specialize in optimizing websites for this search.
If you want to expand your advertising opportunities across search networks, you can advertise on DuckDuckGo. It could be an advantage for you that the users trust the search engine more and therefore the text-based advertising published via it is more trusted than it is the case with Google AdWords, for example. Still, it will be more of a marketing niche, as DuckDuckGo is still far behind Google and other search engines in terms of traffic.
Conclusion
DuckDuckGo provides an interesting alternative to other search engines, even if Google still has the largest index of all search engines. The quality of the search results is now convincing and is receiving increasing praise from people who are professionally involved in searching the Internet.
Inhaltsverzeichnis
Your comment has been sent successfully.
Your comment will be checked