Keywords: The Ultimate Guide to Effective Keyword Research (2021)
0 Kommentar(e)
Diskussion
Keywords are the cornerstone of your SEO strategy. Learn how to quickly and effectively search for them and identify the right ones here. We show you valuable tips and the best tools. A creative mind, a few minutes of your time and enough motivation is all you need. Let's go!
You have no idea what a keyword research or even keyword analysis is? Here you can read up on the term keyword analysis.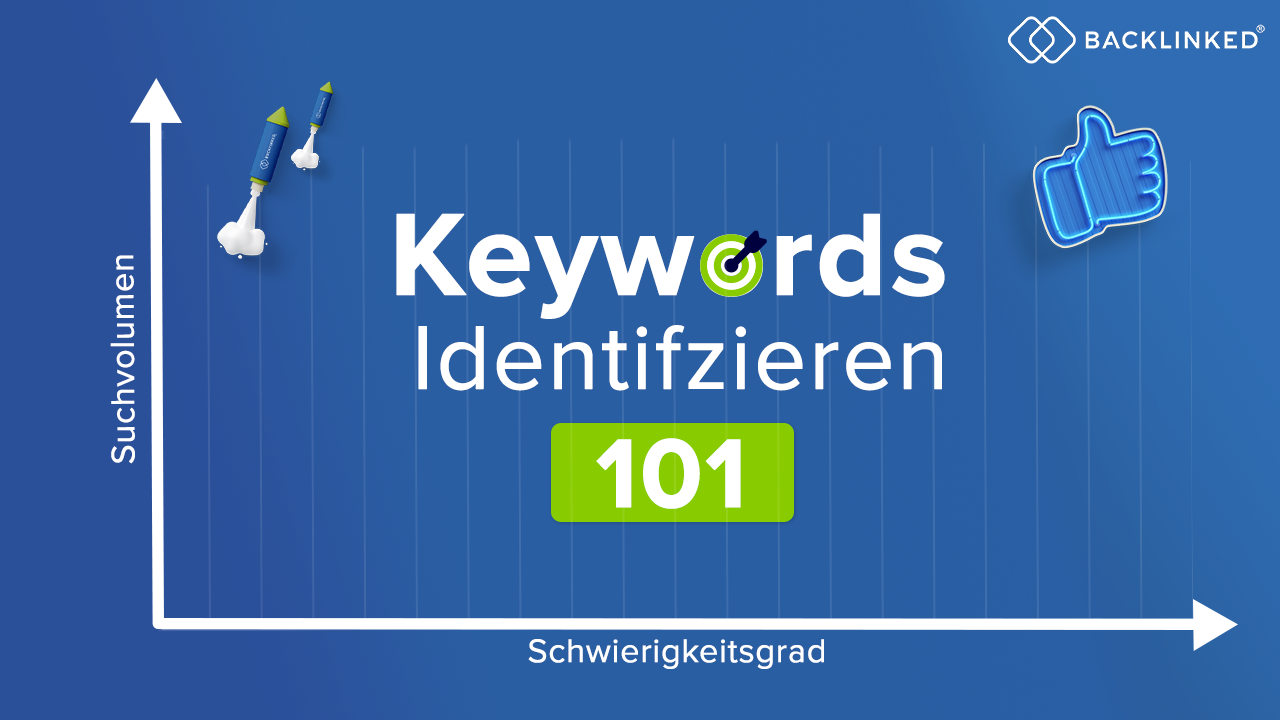 Why should I research keywords?
Whether you work at a marketing agency or want to get your startup visible, there's been no way around addressing proper SEO optimization for a long time.
Find your place in the web
We live in a society where we are constantly inundated with information. It's no different with the topic of SEO. If we look for the right way to optimize our site in SEO manner, we get a thousand suggested solutions from various forums, famous bloggers and websites.
"These days, keyword research is nothing more than market analysis!"
The needle in the haystack
With this amount of information, it's easy to lose track. For sure, most of these methods exist for a reason, but it's easy to forget the essential factor of SEO optimization: the correct interpretation of search intent!
What are keywords?
Keywords are blocks of wordswhich help the search engines to identify and rank the content of your page. Complex algorithms analyze these blocks of words to provide users with the best and most appropriate content the web has to offer.
The keywords are thus the basis of every SEO. It is simply a fact: without keywords SEO is not possible!
The most important reasons to do proper keyword research:
1. identify the topics that interest your customers!
2. get to know your target group!
3. more targeted advertising (better limitation of your dialling = cost saving)
4. improve your services / productsKeywordsare not only the basis of your ranking in Google. They are one of the most important indicators of essential questions that determine your approach as a company:
Who are your customers?
How is the market structured?
What's the competition doing?
In which direction should you develop?
Where do you find your audience? (Channels)
What progress are you making?
In order to start optimizing your keywords, however, you must first learn how to get the information you need. If you are interested and also want to benefit from the numerous advantages of a thorough keyword analysis, we will gladly guide you step by step through the SEO jungle.
"Think outside the Box": Let's go!
Is the motto of many start-ups and this should also be your approach when it comes to identifying the right keywords. What do we mean by that?
Most people reduce their keyword search to three simple steps:
Make a list of keywords that have been used the most in your customers' searches.
Push these keywords into the Google Keyword Planner
Intuitively choose some of these keywords that you think are relevant
If your previous keyword analysis looked anything like this, I have to tell you that you were unfortunately completely barking up the wrong tree.
This is especially necessary in 2021, as advanced input options like voice search have changed keyword research.
Find new avenues through new keywords and watch your site move to the top of Google search results. Go ahead and watch your competitors fight over the most obvious keywords and throw their budget out the window. The real treasure isn't quite so easy to find, but don't worry – We (and a few handy tools) will help you find it.
OUR TIP: Use more efficient keywords (We show you how)
Identify niche topics correctly
Niche topics are nothing but topics that potential customers are interested in. This can be, for example, certain problems or questions. Niche topics are not keywords, they are general topics but you can get basic information from them. The keywords you gain here are more relevant and cheaper than those of the competition. Let's say you have an online store and sell accessories for dog owners. Let's put that right into the CCP:
These are the results. As mentioned before, the Keyword Planner only shows you the words that have a close connection to the term you are searching for. Of course, they are important keywords.
To limit your efforts only to these terms, however, would be a waste of time.
Someone interested in accessories for their loved one might also be interested in the following:
"Dog Training"
"The right diet for my dog"
"Finding the Right Dog School"
"What's better food bowl or feed store?"
etc.
All of these niche topics are closely related, but don't immediately use the said keyword:"accessories for dogs". Niche topics can really help you find the best keywords in your industry that Google Keyword Planner simply won't show you.
Where to look for niche topics?
As mentioned before, finding niche topics, or niche questions is not the easiest thing in the world, but there are some tips and tools that can make this procedure much easier.
Forums and Facebook groups
Even though forums now get a little less attention than they did a few years ago, they are still an important source of information about potential customers and keywords. The Web 2.0 equivalent, Facebook groups, works virtually just as well.
Joining these groups allows you to better understand potential customers. You can better identify their questions and problems this way. You get exactly the information you need, first hand. You learn who they are and what niche topics move these people.
Evenbetter than Facebook groups are still the forums. Because you can dig deeper there. Look at the layout of the forum. What sections does it consist of? How were these sections named? – and you already have your first ready-to-use keywords. Each of these sections can already be your first targeted niche topic. Just type your main keyword into Google and add the word forum.
In a nutshell:
Find matching forums and Facebook groups
Stay on top of things
Follow the development of your topic and adapt the topics of the target group
The Sistrix Tool Box
If you want to save yourself the work of extensive topic research via Facebook & Co., I can highly recommend the keyword tool from Sistrix.
Here you get detailed information about what users are searching for in relation to your terms. Here, the terms are not bluntly categorized, but also sensibly adapted, so that you also get out any questions that users are interested in in connection with the topic "dog accessories". Here's a glimpse:
First you get general information about the keyword like search volume, clicks & co.
Then it gets interesting!
In addition to the typical keywords that include your keyword (or keyword phrase), the tool also shows you related search suggestions that are also searched for in context.
Helpful especially for the Siri, Alexa & Co. are the questions. Here you will find whole questions searched by the same users.
The breakdown of keyword ideas is very clear and well structured. Under Keyword Environment you can now analyse everything that users are also searching for and therefore interested in. Additionally you always have the information about the competition / search volume and the trend. This allows you to analyze exactly whether it makes sense to include certain keywords in your analysis or not.
Depending on this, the tool will show you very relevant or less relevant keywords. This is where your creativity comes in. Search for other keywords or topics (as described above) that interest your users and see what new keyword creations the tool spits out for you. You'll be amazed at what you find out about your target audience and the search intent of the keywords.
The familiar "persona" tactic!
Creating a so-called "persona" is quick and easy and guaranteed to pay off. It brings you even more essential information about your customers and can even help you to gain more keywords from the niche topics.
Another helpful benefit of Buyer Persona is their usefulness when it comes to creating your target audiences for Adwords and Facebook campaigns. All you have to do is get a pen and paper and come up with an example for a client.
Think about the following characteristics:
Age
Gender
Income
Hobbies
Targets
Problems in meeting these objectives
The persona helps you become aware of characteristics you may already know, but also helps you understand or even rediscover your target audience. You might come across topics or thoughts that you haven't even considered before.
OUR TIP: The results from your analyses can not only be used in the content and your approach for e.g. advertising or product orientation, but can also be adapted to the user experience of your website.
Understand the user's search intent
Once you've summarized a detailed keyword analysis, it's also a matter of understanding the keywords, or the user's intention for why they're searching for that particular term. With keywords like "dog accessories" the intention is easy to understand:
"I'm looking for a dog leash (or similar) for my Rex".
In some areas, however, this can be more difficult. Therefore, the higher-level keywords are usually the "hardest" ones because the intent is not clear.
So if someone searches for "dog", you don't know why they are doing it exactly.
The most diverse intentions could be:
– Does he want to know what a dog is? 😛
– Does he want to see pictures of dogs?
– Is he looking for a Wikipedia article on dogs? (definition, types, etc.)
– Is he considering getting a dog and would like some general information?
– Is he looking for a "dog shop" etc.
With certain keyword variants it is easy, because these contain the appropriate additionsuch as "buy, definition, experience, problem, location reference, etc. "These are just a few tips for how you can efficiently discover keywords and in-demand niche topics. However, it's all a matter of time, experience and your own creative skills to discover the best non-competitive keywords for your audience.
Categorize keywords correctly
You have discovered your niche topic? Then it's time to categorize your keywords!
However, without the following knowledge you won't get far!
There are the following types of keywords:
Head (one-word sentences)
Body (2-3 words long sentences)
Long Tail (Everything that consists of more than four words, e.g. questions)
So for our equipment for dogs, "dog accessories" would be the Head Keyword which brings a high search volume. So due to the high competition, a favorable conversion is not exactly likely.
A Body-Keyword example could be "collar for dogs", which still has a high search volume, but is still very competitive.
The long-tail keywords are the least competitive and cause the best conversion rates. This is simply because we know exactly what the user wants.
However, these keywords are also the most difficult to find.
It is advisable to focus first on the Body- and tail keywords first, since the head keywords is simply more difficult to optimize.
Long tail keywords are becoming more and more relevant!
If you want to find good long-tail keywords to optimize your content, you should leave Google Keyword Planner aside this time and try some more "unknown methods".
Related searches
"Closely Related to " is an option you'll find at the bottom of Google 's SERP's after you enter your keyword.
This little hint can get you quite a bit further in your long-tail keyword search. Google usually doesn't show you too far-fetched long-tail variations of your keyword. Another step could likewise be to add the keyword you just gained back into the search, scroll to the bottom of the page and discover new terms once more.
The Google Trends
Before you decide to invest in one of the paid keyword research tools, you should definitely take a look at Google Trends take a look at. This tool can show niches with a high number of search queries, which are nevertheless not shown in the Google Keyword Planner.
Here you can follow the temporal course of your keyword. This way you can find out, for example, if there are certain periods of time when your keyword gets more search queries than usual.
Especially helpful for search queries with a local reference (e.g. local businesses), you can still see the breakdown into specific regions here.
You can also find similar topics that users are searching for here in Google Trends.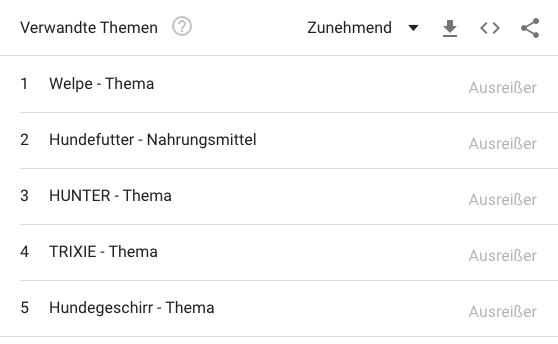 OUR TIP: Google Trends should not be considered on its own, as it only gives a "direction" and, according to Google, does not give "overly reliable data." You may also find less to no data here for less popular keywords.
Turn keywords into conversions
Now you've learned how to search for valuable, low-competition keywords that bring good conversion rates. Now it's time to bring that long list of phrases to life and get your site to the top of Google search.
Now you're wondering how that works exactly?
By creating exclusive content on your site. However, not just any content that contains your keywords!
You need valuable content that is targeted to your audience.
Of course it takes a lot of effort to produce such a lot of well prepared content, but it gives you a huge advantage over your competition. Most of your competitors are not able to produce extensive yet quality content.
Most don't realize the relevance, that they also don't realize the need to write high quality content, or that they are simply too lazy. Don't be one of them!
Having a lot of content doesn't mean you have to use the keywords a lot more often.
It is enough to scatter a few of them in the text. It's best to do this at the beginning of the article. In the first 250-300 words. The earlier the words appear in your article, the more Google will associate your text with those keywords.
Of course, you can't forget the other very basic rules that exist when creating content. Make sure it's legible.
Add media that matches your content. Also give ALT tags, then you show up more often in the image search.
Make sure the reader gets value from visiting your site, because at the end of the day, remember, you are creating content for your users/customers and not for Google! Google does rank you, but if users aren't bringing you traffic, Google sees that too!
I wish you much success, which I'm sure you will have if you take a few things to heart!
Inhaltsverzeichnis
Your comment has been sent successfully.
Your comment will be checked