Local Snack Pack: More business with Local SEO – Simply explained! (2021)
In this post, I want to introduce you to Google's Local Snack Pack. For local businesses, a good placement in the Local Snack Pack can be a real boon. Why this is so and how the whole thing works, you can find out here.
The calm before the (new customer) storm
You've probably already searched yourself on Google, right? If you are already a member of the Local Snack Pack, you can now sit back and enjoy the following lines. If this is not the case, your full attention is required – it could be worth it for you. Very much so. Let's start with the basics and take a closer look at the Local Snack Pack and its benefits:
Most searches are for local services
If you are not yet convinced of the importance of the Local Snack Pack, you should consider the following figure: 80% of all 40,000 search queries per second from Google are about local businesses or services! No business, no service provider can afford not to be represented here! All it takes to be considered by Google for local search queries and to be ranked accordingly high is a little search engine optimization of your website.
The unimagined potential of local search with the Local Snack Pack
As you could see in the graphic, the Local Snack Pack offers a wealth of relevant information. You search for pizza and find everything you need. Google gives you three options, more if you want. What you need to do now is compare and decide. It doesn't get any better than this, does it?
This is exactly what makes the Google service so popular. So much so that 4 out of 5 searches are now local:
The enormous added value for your customers
Prerequisite to get into the Local Snack Pack is a "My Business" account at Google. This is created in a few minutes and filled with basic information. Invest this time in your company: This way you give your customers the possibility to find all relevant information about you and your company in the shortest possible time.
57 million Germans use smartphones. 88% of them use local search.
These searches are on very simple topics:

Advantages for your company
The beauty of Google's Local Snack Pack is:
You offer your customers added value
You will be found easier
The willingness to buy in local search is significantly higher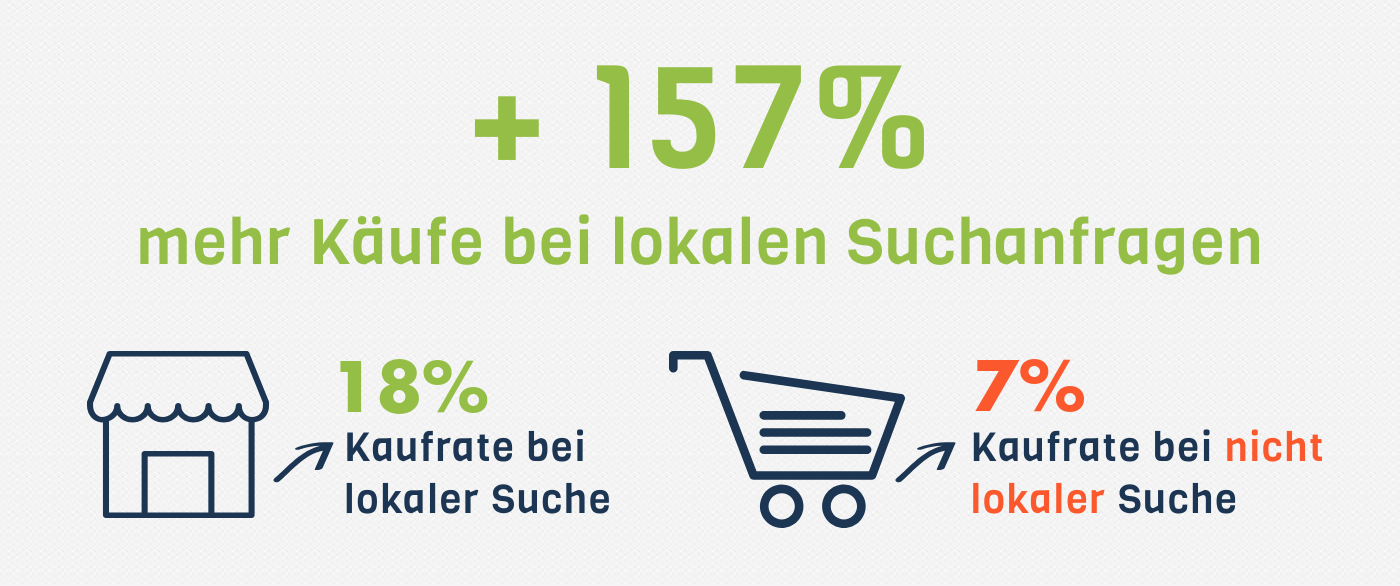 Now I come to the really impressive numbers. 54% of all consumers who use local search visit the business they found the same day!
You want to be in the Local Snack Pack too?
Here you'll find our Local SEO Guide with explainer videos and everything you need to get your business ranked in the Local Pack!
LEARN MORE!
Source citations: Think with Google; Statista
Inhaltsverzeichnis
Your comment has been sent successfully.
Your comment will be checked