page authority
0 Kommentar(e)
Diskussion
The key figure Page Authority is a concept of the American service provider moz.com and is similar to the concepts Page Rank by Google or Domain Rating by Ahrefs. With this moz.com tries to express the Domain Authority with a numeric value between 0 and 100.
Definition
For search engine optimization of your site, it is crucial to know how the authority of a website is ranked by a search engine. That's why there are tools from different providers like moz.com or Ahrefs that can give you a numerical value between 0 and 100 for a website.
With this value it is possible to establish comparability. The value alone has only little significance, only by comparison with several websites you can determine whether your website enjoys a really good Page Authority. If not, you can work on your authority through OnPage and OffPage optimization.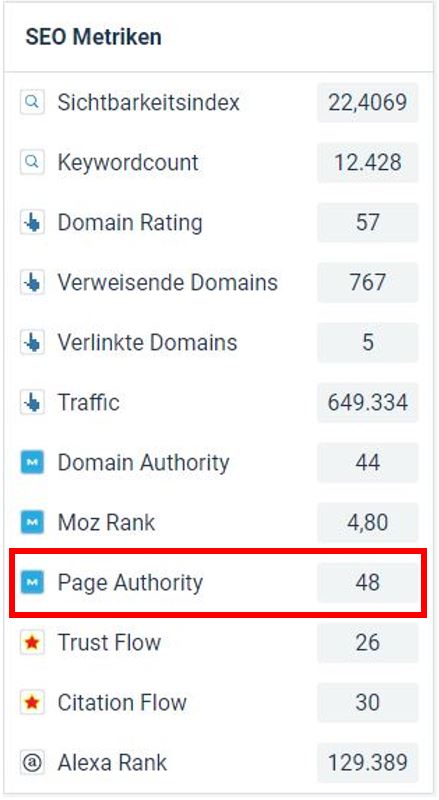 It is important that the Domain Authority refers to the whole domain, the Page Authority only to a single subpage.
What does authority mean for a website?
Search engines use crawlers to scan web pages and assign them an authority on a particular topic so they can place them on their Search Engine Result Page (SERP). So whether your page is presented higher up or lower down on the SERP depends on the authority of your page.
OnPage factors
Google and co calculate your authority based on various Key Performance Indicators (KPI). Based on keywords, ALT tags and more, the crawler can assign value to your content. Also important are the metrics your visitors generate on your site, such as page impressions – the total number of times your page is viewed, the time spent on your site, or the bounce rate – how many of your visitors leave your site after just one view. With these values, the algorithm determines a value that should reflect how convinced your users are of your content.
OffPage factors
Another key aspect of a website's authority is its presence on the internet via backlinks. When another website places a link to your site, a so-called backlink is created. Based on the number and especially the quality of these cross-references Google evaluates the Domain Authority of your site. You can work on these backlinks as part of your OffPage optimization with link building. When you get backlinks from other sites with a high page rank, the page authority of the linked site increases. Backlinks from a bad neighbourhood – i.e. sites that are not very trustworthy – will do you more harm than good ones will do you good.
How can you use Page Authority?
You can use the Page Authority system in two different ways because of its comparability. On the one hand, you can use it to check how trustworthy your own site is rated. Because this is a key part of your SERP results, you should keep an eye on this value and react if necessary. By assigning a numerical value, you can quickly see if any of your subpages are improving or deteriorating.
On the other hand, you can quickly determine the quality of backlinks with this value. Once you know what is a good value for your topic, it is easy to see if your backlink is good – or from a Bad Neighbourhood and you should get rid of it as soon as possible.
It also makes your link building work easier. To get good backlinks, you can look for other websites to collaborate with. Knowing their Domain Authority and Page Authority ahead of time will help you identify which page is worth contacting.
Conclusion
With the Page Authority metric, you can see very precisely what authority is assigned to a single one of your subpages by a search engine. Because authority is critical to SERP rankings, it pays for you to keep an eye on this value on an ongoing basis.
It is also a useful tool for your OffPage SEO, because you can quickly and clearly see how good your backlinks are or which page you should try to backlink to.
Inhaltsverzeichnis
Your comment has been sent successfully.
Your comment will be checked